Welcome!
Welcome to the official website of the California State Association of Letter Carriers! We hope that you will enjoy the offerings presented on these pages!
What's New?
Highway Robbery!
Eric Cantor announced to his caucus that the GOP plan to finance the Highway Transportation Fund would be to impose 5-Day Service on the United States Postal Service. Cantor would use the "savings" to pay for the fund.
We need to contact all of our Congressional members who are the Transportation and Infrastructure Committee (listed below) and let them know that there would be no cost savings associated with eliminating 6 Day service. The USPS's own confidential report stated that reducing a day of service would cut total revenue by 7.7% and drive 15% of our customers away. Any savings from reducing labor costs would be negated by loss of revenue.
In Cantor's caucus memo he further justified his plan by stating that 5-Day helps the USPS by saving 2 billion dollars a year. Again, we know that to be false. He also states that under his plan delivery of medicines, periodicals, parcels and packages would continue on a 6 day schedule. If that is true why would eliminating first class make any sense (especially if we are still delivering periodicals)?
The formula for financing highways was reevaluated in the early 90's (it was last raised in 1993). Financing for highways is derived from the federal gas tax, which has been 18cents/gallon for roughly 20 years. The gas tax formula has stayed at 1990's levels because Congress does not want to vote for a gas tax. This 5 Day Plan is just a way for legislators to keep highway construction going without having to vote on a potentially unpopular and much needed tax.
Listed below are the California Congressional members who are on the House Transportation Committee. Branch leaders should contact these members immediately. Also, if your branch has members who are constituents of any of these representatives please have them contact their offices directly as well.
What we are asking these members is to please not support any plan that would impose 5-Day Service on the United States in order to use any savings that is projected but in fact unrealized to finance the Highway Transportation Fund.
Federal Gas Tax pays for Highway Trust Fund ie how states pay for road upkeep. Currently the tax is 18 cents/gallon. It has not been changed since 1993. The fund is now broke.
Congress does not want to vote on a gas tax. Instead they will use savings from eliminating 6-Day service.
Congress is again forcing the USPS to pay for unfunded liabilities

This plan may save no money. According to the USPS's own report gutting 6-Day may decrease revenues by 7.7%, negating any cost savings. In effect, "Robbing Peter to pay Paul!"
On top of that we are the most cost effective mailing service in the USA, by taking us out of the equation price increases will get passed down to the consumer. This is a tax on the consumer.
California Representatives on the Transportation and Infrastructure Committee
Gary Miller(R-31) Phone DC 202-225-3201
Phone Local District 909-980-1492

Duncan Hunter(R-50) Phone DC (202) 225-5672
Phone Local District (619) 448-5201

Jeff Denham(R-10) Phone DC (202) 225-4540
Phone Local District (209) 579-5458
Grace Napolitano(D-32) Phone DC (202) 225-5256
Phone Local District (626) 350-0150
John Garamendi(D-3) Phone DC (202) 225-1880
Phone Local District (530) 753-5301
Janice Hahn(D-44) Phone DC (202) 225-8220
Phone Local District (310) 831-1799
If their DC number is busy you might also be able to reach them through the DC Capitol Switchboard and asked to be connected to the Representatives Office. Capitol Switchboard - 202-224-3121
Again, please remember we are asking these members to not support any plan that would impose 5-Day Service on the United States in order to use any savings that is projected but in fact unrealized to finance the Highway Transportation Fund.
Thank you for your assistance with this legislative action.
If you have any questions please give me a call.
In unionism,
John Beaumont
President
Senate Bill 1486
Last week the Senate Homeland Security and Government Affairs Committee, marked-up the modified Carper-Coburn postal bill, S.1486. The committee voted 9 to 1 to report the bill out for a future vote on the Senate floor. There were very minor changes between the modified version and the original legislation which still eliminates door to door and Saturday delivery. The Senate proposal completely disregards the large revenue growth the Postal Service continues to experience through a boom in our parcel delivery and continues the pre-funding mandate that continues to cause all of the problems behind the USPS financial crisis. If enacted, this legislation would eliminate thousands of Postal Service jobs in a matter of months. Service to our customers would disappear and our institution, which is in the original United States Constitution, would be torn apart.
NALC President Fred Rolando stated, "If the full Senate considers postal legislation, it should be in the form of a manager's amendment that focuses on solutions to the real issues facing the Postal Service - pre-funding, pricing, new products and pension surpluses." This is why we, as letter carriers, should get involved when asked by our union. We need to work together to continue to inform our friends, families, community, veterans, and faith based organizations, as well as our elected officials at all levels; City, County, and State of what changes the Postal Service will implement that affect them if S 1486 is enacted into law.
The CSALC is working together with our membership to introduce resolutions at local city councils across the state. We work in getting local government to stand up to the changes being proposed in S 1486 and letting both our United States Senators know they want them to not support this bill if it does not contain the changes proposed by President Rolando above and if it does not protect door to door and 6 day delivery. If you or someone you know has a connection with a local City Councilmember or County Supervisor please contact your branch president or local state officer so we can work with you to get this resolution introduced in your area. Please take the time to get involved and get others to join you; the job you save very well could be your own.
In unionism,
John Beaumont, President
California State Association of Letter Carriers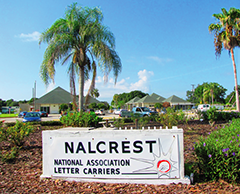 Click here to learn more about Nalcrest, the NALC-owned retirement community in Florida.





Issa Rams USPS Reform Bill Through Committee
Congressman Issa has just rammed through his Committee on Oversight and Government Reform his Postal Reform bill (HR 2748).
This vote was completely partisan 22 for 17 against. The Republican Majority-controlled committee not only passed this bill by party line, they also defeated all of the following amendments listed below aimed to try to correct issues contained in this legislation that would hurt workers as well as the general public at large. However, both our other members on the committee, Congresswoman Jackie Speier and Congressman Tony Cardenas voted to support all of our amendments and voted against HR 2748 on the final vote. The CSALC wishes to thank all our members who took the time to call these representatives this morning in our effort to solicit their help on the bill.
While this outcome did not come as a surprise it is important that all members know that this is just the first step to becoming a law, and certainly not the final outcome.
Our next battle on HR 2748 will be when the legislation is scheduled for a floor vote.
Since the bill is now out of committee we must immediately rally our membership to be prepared for our next move. National President Rolando, and our DC Legislative Staff, will be working with us on what will be needed to lobby our congressional representatives and our patrons so we can stop Issa and PMG Donahoe in their ill advised plan to dismantle the United States Postal Service.
Below is the overall vote total from today's Mark-up for each of the amendments being offered that we supported and the final tally of the bill.
In unionism,
John Beaumont, President
California State Association of Letter Carriers
H.R. 2748 (Postal Reform Act of 2013) Final Mark-up
(22 For to 17 Against – Bill passed and is now reported to the House Floor for a future vote)
H.R. 2748 (Postal Reform Act of 2013) - Final Votes on Democratic Amendments to bill
1. Cummings ANS to H.R. 2748 – The Ranking Member's amendment would strike H.R. 2748 entirely and thus prohibiting the move to a 5-day delivery schedule and expediting the closure and consolidation process of postal facilities. The Ranking Member's bill would also include his language from the Innovate to Deliver Act of 2013; H.R. 961, the United States Postal Service Stabilization Act; H.R. 1431, the Postal Employee Appeal Rights Amendments Act of 2013. The inclusion of these bill would permit the Postal Service to offer non-postal products and services, recalculate the FERS surplus using Postal-specific assumptions and return any surplus and grant appeal rights to managerial and supervisorial employees of the Postal Service.
(22 Against to 17 For –Amendment fails)
2. Tierney Amendment striking section 306 – this would eliminate the Chairman's provision to remove Postal employees from the Federal workers' compensation program into a Postal-specific program.
(22 Against to 17 For – Amendment fails)
3. Lynch Amendment striking section 102 – this amendment would eliminate the Chairman's provision requiring the Postal Service to convert existing addresses from door delivery to a curbside or centralized delivery point. The Chairman's bill would require the Postal Service to convert 30 million addresses by 2022.
(22 Against to 17 For – Amendment fails)
4. Lynch Amendment striking section 301 – this amendment would strike the Chairman's provision to prospectively prohibit the use of anti-Reduction-in-Force language in collective bargaining agreements.
(22 Against to 17 For – Amendment fails)
5. Lynch Amendment striking sections 501 & 505 and replacing the sections with H.R. 961
(22 Against to 17 For – Amendment fails)
Visit our MDA page to find out about upcoming fundraisers in 2013.
Congressional Allies of PMG Donahoe continue to push for Elimination of Saturday Delivery!
WASHINGTON, March 21 - Congress foiled the financially beleaguered U.S. Postal Service's plan to end Saturday delivery of first-class mail on Thursday when it passed legislation requiring six-day delivery. But some lawmakers who support the Postal Service's plan have said there may still be some room for it to change its delivery schedule. They point out that the language requiring six-day delivery is vague and does not prohibit altering what products it delivers on Saturdays.
Republican Senator Tom Coburn of Oklahoma and Representative Darrell Issa of California on Thursday jointly told the USPS Board of Governors to move forward with implementing the five-day delivery plan for mail. "The Board of Governors has a fiduciary responsibility to utilize its legal authority to implement modified 6-day mail delivery as recently proposed," the lawmakers said in their letter to the USPS board. By Issa and Coburn's logic, the USPS could cut mail delivery even further, provided it continued to deliver some mail six days a week. In other words, if the USPS simply continued delivering, say, Express and Priority Monday through Saturday, it could decide to restrict regular mail deliveries to four, or even three days a week, resulting in a workforce of mostly part-time employees. (See letter from Coburn and Issa to Postal Service Board of Governors)
GAO Legal Opinion Refutes Postal Service Claim on Cutting 6-Day Delivery
The claim by the Postmaster General that the U.S. Postal Service has the right to cut its mail delivery schedule from six-to-five days "rests upon a faulty USPS premise" and there is no legislative authority from Congress allowing the change, the Government Accountability Office said today in a legal opinion requested by Congressman Gerald E. Connolly (VA-11). "The GAO legal opinion clearly rejects the Postal Service's attempt to circumvent the law," Connolly said.
In its letter to Connolly, GAO says that USPS is bound by current law and the current Continuing Resolution to fund the federal government requires "USPS to continue 6-day delivery and rural delivery of mail at not less than the 1983 level."
"This impartial and definitive GAO legal opinion makes it crystal clear that USPS cannot operate outside the legislative authority of Congress and unilaterally implement a change in delivery service that many believe will not only disrupt mail service, but also exacerbate USPS revenue losses and contribute to the decline of this constitutionally-mandated service to all Americans.
"GAO's opinion is clear that 'USPS's interpretation of the Continuing Resolution and of the 2012 Appropriations Act parses the statute in a fashion that frustrates both the nature and the purpose of the Continuing Resolution,' and I hope the Postmaster General will cease wasting energy on flouting the will of Congress and the law itself" Connolly said. "It is imperative that the USPS focus on working with Congress to pass comprehensive postal reform legislation that transforms its business model to grow and thrive in the 21st century," Connolly said.
The U.S. Government Accountability Office (GAO) is an independent, nonpartisan agency that works for Congress. Often called the "congressional watchdog," GAO investigates how the federal government spends taxpayer dollars. The head of GAO, the Comptroller General of the United States, is appointed to a 15-year term by the President from a slate of candidates Congress proposes.
Click here to read the text of the letter from the GAO to Congressman Gerry Connolly.